This is a Sponsored post written by me on behalf of ZzzQuil for SocialSpark. All opinions are 100% mine.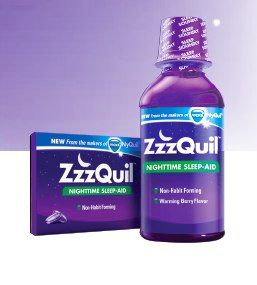 This has been a pretty crazy & stressful few months for me. Hence my lack of posts. And I promise to get better at that real soon. But right now I want to talk about ZzzQuil. Have you heard of it yet? It's from the makers of NyQuil, but it's not for pain or colds. It's just for when your only sympton is occasional sleeplessness. Even though I've been super busy, and should have been able to sleep well, that hasn't always been the case. I was glad to have the ZzzQuil on hand. It was simple to take (I tried th e liquid, but would have preferred the pill form) and it helped me sleep. Plus, thanks to it's active ingredient, diphenhydramine HCI, I woke the next morning ready to go, not feeling drowsy and sleepy.
Now for some more information about ZzzQuil. Did you know that it's the only over-the-counter sleep-aid available in both Liquid (Warming Berry flavor) and LiquiCap® forms? Do you like liquid, or do you prefer the pill like I do? Also, ZzzQuil is intended for adults and children 12 years of age and older. It is non-habit forming as well as safe and effective when used according to package directions. More information about ZzzQuil is available at www.zzzquil.com.
The next time you're having trouble sleeping, give ZzzQuil a try. I think you'll like it! And don't forget to like them on Facebook. And after you try it, send out a Tweet letting everyone know what you thought. Use the hashtag #ZzzQuilNight.